Plumbing School Near Rockford, IL
Is it time for a career change? Have you been thinking of becoming a professional plumber? We've been where you are and have the certifications and awards that prove a plumbing career will offer the stability, success, and rewards you desire.
Illinois Plumbing Consultants has three conveniently located facilities near Rockford. From day one, each student receives a hands-on experience that translates to real-world success.
We can help you pass the Illinois State Plumbing Exam, master new skills, and fill in gaps in your existing knowledge. Whether you're an apprentice or have years of experience under your tool belt and want to update your skills, we have a program to meet your needs.
Ready to take the next steps in your plumbing career in Rockford? The team at Illinois Plumbing Consultants is ready to help.
Call 866-608-9523 or contact us to learn more.

Hands-On Plumbing License Prep Program in Rockford
Our plumbing license prep program combines classroom education with advanced hands-on training. This comprehensive approach prepares you for a solid and stable plumbing career in Rockford, throughout Illinois, and beyond.
At Illinois Plumbing Consultants, you'll study every detail of the Illinois Plumbing Code and master the skills needed to apply them effectively. Our courses and dedicated instructors cover real-world plumbing issues, including:
Waste, sewer, and vent system installation
Residential water and waste system installation
Natural gas piping and installation
Troubleshooting and repair
And more
Contact us at 866-608-9523 for more information about continuing your plumbing education in Rockford.
Classroom Instruction Taught by Expert Plumbers in Rockford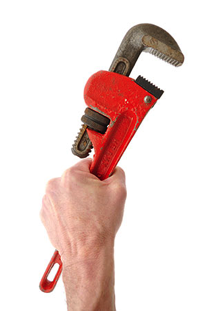 It's necessary to first master the basics of plumbing systems and safety before mastering advanced skills. Our instructors tailor each course to make each piece of knowledge a building block that fits snugly into your memory.
Our thorough understanding and real-world experience ensure there will be no gaps in your skill set when you graduate.
Our classroom portion of the Illinois Plumbing Consultants program covers:
Comprehensive explanation and discussion of the Illinois State Plumbing Code
Detailed instruction in drafting and blueprint interpretation
Advanced instruction in applied mathematics, physics, and chemistry
Up-to-date OSHA safety training
Prepare for Your Plumbing Career in Rockford with Illinois Plumbing Consultants
At Illinois Plumbing Consultants, we know a high-quality education is key to a successful future. Our experts are dedicated to providing the technical skills and advanced knowledge students need to succeed.
Whether you're an apprentice or licensed plumber, we can help you master the necessary skills to service 21st-century plumbing systems.
Our instructors are experienced plumbers and plumbing inspectors carefully selected for their expertise and ability to develop an advanced curriculum. Our program thoroughly encompasses the Illinois Plumbing Code and the practical hands-on exposure required to master the skills taught in each lesson.
At Illinois Plumbing Consultants, we know it's a challenge to juggle full-time employment while furthering your education. To make it easier, we've structured our Illinois Plumbing License Prep Program, so the required lessons fit within your schedule.
When you enroll with Illinois Plumbing Consultants, you'll receive superior training and real-world skills you can apply right away. Whether you're just entering the plumbing profession in Winnebago County or aiming for a promotion at your current job, we can help you take the next steps in your career in Rockford.
Contact us online or call 866-608-9523 for more about our plumbing school near Rockford, Illinois.
We're happy to answer your questions and help you take your career to the next level by giving you the skills needed to achieve your goals.
Have Questions?
Get In Touch With Us Today!